Websites
Chicago Limo: Tech-Driven Luxury Transport
Our collaboration with "Chicago Limo," a premier limo service provider, encompassed the transformation of their vision into reality through the creation of a cutting-edge website. With an emphasis on elevating user experience and optimizing luxury cab services, our partnership led to the inception of the "Chicago Limo" website, equipped with innovative features and a seamless online booking system.
"Chicago Limo" now stands as a testament to our shared success, presenting users with a dynamic platform to access premium cab services in a tech-driven manner. By integrating advanced technologies with luxury transport, we've revolutionized the industry, redefining the concept of commuting with style and convenience.
Approach:
Our journey embarked with the core intention of revolutionizing the transportation landscape. A meticulous analysis of "Chicago Limo's" requirements, target audience, and industry competitors formed the bedrock of our systematic and collaborative approach, steering the course of design and development.
Work Plan:
Our central objective encompassed the creation of a website that would redefine luxury transport by merging it with cutting-edge technology. We harnessed our expertise to implement an online booking system, ensuring user-friendly navigation, personalized preferences, real-time availability checks, and secure payment integration.
Design and Development:
Guided by the insights garnered, we crafted a design that combined aesthetic appeal with intuitive navigation. "Chicago Limo" now boasts a technologically sophisticated interface, facilitating seamless user engagement across various devices, guaranteeing accessibility on both desktop and mobile platforms.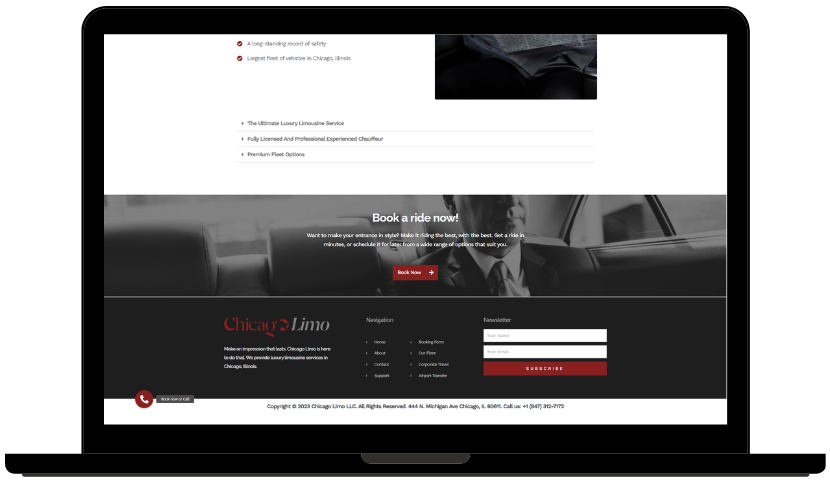 Key Features:
Online Booking System: We engineered an advanced online booking system, enabling users to effortlessly schedule their luxury cab rides, while ensuring real-time availability checks, fare estimates, and secure payments for a seamless experience.
Route Optimization: By leveraging cutting-edge mapping technologies, "Chicago Limo" offers efficient route optimization, ensuring prompt and convenient transportation.
Personalized Preferences: The website empowers users to customize their rides by selecting preferred vehicle types, amenities, and special requests, enhancing the tailored luxury experience.
Real-time Tracking: Users can track their booked vehicle in real-time, fostering transparency and offering a heightened sense of security.
Secure Payments: A secure and streamlined payment gateway ensures hassle-free transactions, allowing users to complete their bookings with confidence.
Technical Enhancements: Our team integrated state-of-the-art technologies, including geolocation services, cloud-based data storage, and responsive design, to ensure flawless performance and optimal user engagement.
Result:
The "Chicago Limo" website, meticulously developed by our team, has redefined luxury transport while exceeding the client's objectives and user expectations. The notable achievements include:
Elevated User Satisfaction: "Chicago Limo's" seamless online booking system, personalized preferences, and real-time tracking have set new standards for luxury commuting, enhancing user satisfaction.
Innovative Travel Experience: The amalgamation of cutting-edge technology with luxury transport has transformed "Chicago Limo" into a pioneer of innovation in the transportation sector.
Enhanced Efficiency: Route optimization and real-time tracking ensure timely and efficient transportation, enhancing both user convenience and operational efficiency.
Positive User Feedback: Users have praised the convenience, transparency, and personalized experience provided by the "Chicago Limo" website, underscoring its impact on the luxury transport landscape.
Business Growth: "Chicago Limo" has experienced substantial growth in customer engagement and revenue since the launch of the website, positioning them as leaders in the luxury transport industry and attracting a wider clientele.
Our collaboration with "Chicago Limo" has resulted in the creation of a revolutionary website that redefines luxury transport through technology. The fusion of advanced features, personalized experiences, and cutting-edge enhancements showcases our dedication to crafting innovative solutions. We take immense pride in driving "Chicago Limo" towards success and anticipate embarking on more ventures that reshape industries through the power of technology.