In today's digital age, having an online presence is crucial for businesses and individuals alike. Whether you're a small business owner, a startup founder, or simply someone looking to establish an online portfolio, website builders have become indispensable tools for creating and managing websites without the need for extensive technical knowledge. In this comprehensive guide, we'll delve into why website builders are essential, the benefits they offer, how to choose the right one, and a detailed exploration of the top website builders for small businesses and startups.
Why Use Website Builders?
Purpose and Need
Website builders are online platforms that simplify the process of building, designing, and maintaining a website. They provide a user-friendly interface that allows individuals and businesses to create professional-looking websites without the need for coding skills or hiring web developers. Here's why website builders are needed:
Ease of Use: Website builders are designed to be intuitive, making them accessible to individuals with limited technical expertise. This democratizes web design and allows more people to establish an online presence.
Cost-Effective: Traditional web development can be expensive, requiring payments to web designers, developers, and hosting services. Website builders often offer cost-effective solutions, eliminating the need for multiple service providers.
Time-Efficiency: Building a website from scratch can take a considerable amount of time. Website builders streamline the process, enabling users to create a website within hours or days, rather than weeks or months.
Customization: Website builders offer templates and customization options, allowing users to tailor their websites to their specific needs and branding requirements.
Maintenance and Updates: Website builders simplify ongoing maintenance and updates, ensuring that websites remain functional and up-to-date.
Now, let's explore the benefits of using website builders in more detail.
Benefits of Using Website Builders
How They Work and Key Benefits
Website builders offer several key benefits that make them indispensable for various users, from small businesses to individuals:
User-Friendly Interface: Website builders feature drag-and-drop editors, pre-designed templates, and intuitive navigation, making website creation accessible to beginners.
Cost-Effective: They eliminate the need for hiring web developers or designers, significantly reducing upfront and ongoing website-related expenses.
Time-Efficiency: Website builders expedite the website creation process, allowing users to launch their sites quickly and efficiently.
Templates and Customization: Users can choose from a wide range of templates and customize them to match their brand identity and content needs.
Mobile Responsiveness: Many website builders ensure that websites are mobile-responsive, catering to the growing number of mobile users.
Built-In Features: They often come with built-in features like SEO tools, e-commerce capabilities, blogging platforms, and more.
Security: Website builders typically provide security measures and updates to protect websites from vulnerabilities and threats.
Scalability: Users can easily scale their websites as their needs evolve, whether it's adding new pages, features, or products.
Now that we understand the purpose and benefits of website builders, let's delve into how to choose the right one for your specific needs.
How to Choose the Website Builder
Selecting the right website builder is crucial for achieving your online goals. Consider the following factors and key elements when making your choice:
Industry Specific Features: Determine if the website builder offers industry-specific templates and features that align with your business niche. For instance, e-commerce businesses may require robust online store capabilities.
Integration Capabilities: Check if the website builder allows integration with third-party tools and services such as payment gateways, email marketing platforms, and analytics tools. Seamless integration can enhance your website's functionality.
Customization & Flexibility: Assess the level of customization and flexibility the website builder provides. Ensure it allows you to create a unique design that aligns with your brand.
Scalability: Consider your future growth plans. Opt for a website builder that can accommodate your expanding needs without the need for a complete redesign.
Pricing: Compare pricing plans and understand the costs involved. Pay attention to subscription fees, domain registration costs, and any additional charges for premium features.
User Support: Reliable customer support is essential. Look for a website builder that offers responsive customer service, including email, chat, or phone support.
Avoiding Common Mistakes
To avoid choosing the wrong website builder, steer clear of these common mistakes:
Not Defining Your Goals: Before selecting a website builder, clearly define your website's purpose and goals. Are you creating a blog, an online store, a portfolio, or a corporate website? Different builders excel in different areas.
Ignoring Mobile Optimization: In an era of mobile browsing, ensure that the website builder you choose offers mobile-responsive design options.
Overlooking SEO Capabilities: SEO is crucial for visibility in search engines. Choose a website builder that provides robust SEO tools or allows for easy integration with SEO plugins.
Underestimating Future Needs: Think ahead. Consider your future needs for additional features, content, and traffic. A website builder that can grow with your business is essential.
Ignoring User Reviews: Read user reviews and testimonials to understand the experiences of others who have used the website builder you're considering. Real user feedback can be invaluable.
Now that we've covered how to choose the right website builder, let's move on to our list of the top website builders for small businesses and startups.
Top Website Builders for Small Businesses and Startups
If you're a small business owner or a startup founder looking to establish a strong online presence, choosing the right website builder is crucial. To help you make an informed decision, we've compiled a list of the best website builders, considering factors like ease of use, reviews, pricing, and industry-specific features.
Best Website Builders – At a Glance
| Best For | Ease of Use | Reviews & Ratings | Price |
| --- | --- | --- | --- |
| Wix | 9/10 | 4.5/5 | $14/month |
| Squarespace | 8/10 | 4.6/5 | $12/month |
| Weebly | 8/10 | 4.3/5 | $6/month |
| WordPress | 7/10 | 4.7/5 | Varies |
| Shopify | 8/10 | 4.5/5 | $29/month |
Best Website Builders – Let's Dive Deeper
Now, let's take an in-depth look at each of these website builders, including their key features, reviews, pros and cons, pricing details, and why you should consider using them.
1. Wix
Wix is a user-friendly website builder known for its versatile features and extensive template library.
Key Features:
Drag-and-drop builder
Hundreds of customizable templates
App market for additional functionality
Wix ADI for AI-powered website creation
Ratings:
User-friendly: 9/10
Customer support: 4.5/5
Overall rating: 4.5/5
Pros:
User-friendly interface Extensive template selection
Robust app market
AI-powered website creation
Cons:
Limited e-commerce capabilities in lower-priced plans
Pricing:
Starts at $14 per month (Combo plan)
Why You Should Consider:
Wix is an excellent choice for users who want a visually appealing website without the need for coding skills. Its app market and AI-powered tools make it a versatile option for various website types.
2. Squarespace
Squarespace is a design-focused website builder known for its stunning templates and built-in blogging tools.
Key Features:
Award-winning templates
Integrated blogging platform
E-commerce capabilities
Logo maker
Ratings:
Design quality: 9/10
E-commerce features: 4.5/5
Overall rating: 4.6/5
Pros:
Exceptional design templates
Integrated blogging and e-commerce
Logo maker for branding
Cons:
Slightly steeper learning curve
Pricing:
Starts at $12 per month (Personal plan)
Why You Should Consider:
Squarespace is perfect for creatives and businesses that prioritize aesthetics. Its design-centric approach and built-in blogging and e-commerce features make it a top choice for showcasing visual content.
3. Weebly
Weebly is a user-friendly website builder with a focus on e-commerce, making it ideal for small businesses.
Key Features:
Drag-and-drop editor
E-commerce capabilities
App center for additional features
SEO tools
Ratings:
Ease of use: 8/10
E-commerce features: 4.3/5
Overall rating: 4.3/5
Pros:
Intuitive website builder
Strong e-commerce features
App center for customization
Cons:
Pricing:
Starts at $6 per month (Connect plan)
Why You Should Consider:
Weebly is an excellent choice for small businesses that want a straightforward e-commerce solution. Its intuitive interface and e-commerce focus make it a powerful tool for online selling.
4. WordPress
WordPress is a highly customizable platform, known for its flexibility and vast plugin ecosystem.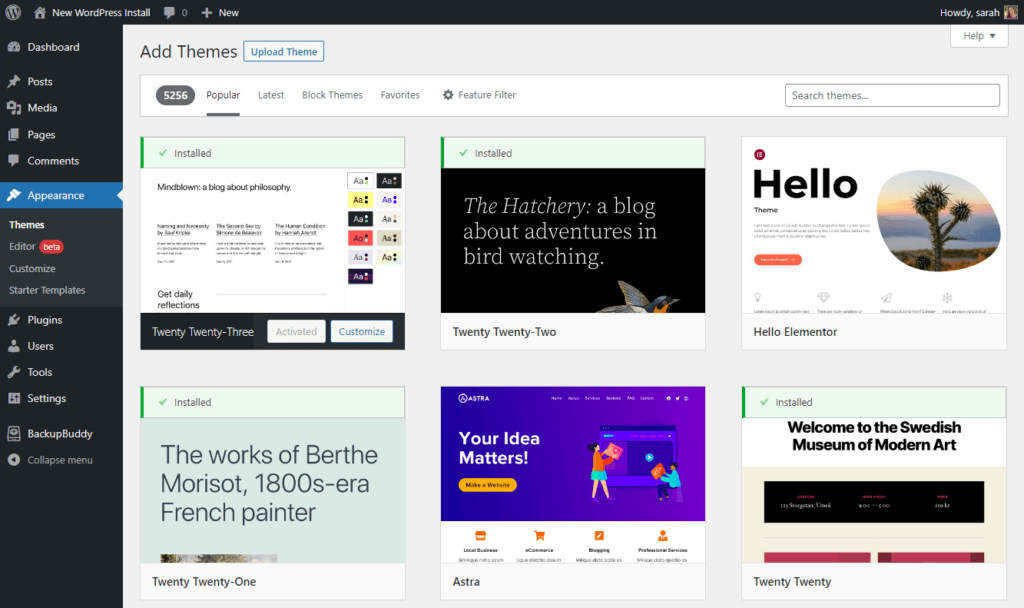 Key Features:
Open-source platform
Thousands of plugins and themes
Full control over design and functionality
Ideal for bloggers and developers
Ratings:
Customization options: 9/10
Community support: 4.7/5
Overall rating: 4.7/5
Pros:
Unmatched customization options
Extensive plugin and theme library
Full control over design and functionality
Cons:
Pricing:
WordPress.org is free, but you'll need hosting (cost varies)
Why You Should Consider:
WordPress is perfect for users seeking ultimate customization and control. It's particularly popular among bloggers, developers, and businesses that require specific functionalities.
5. Shopify
Shopify is a leading e-commerce platform, offering robust online store features and a seamless selling experience.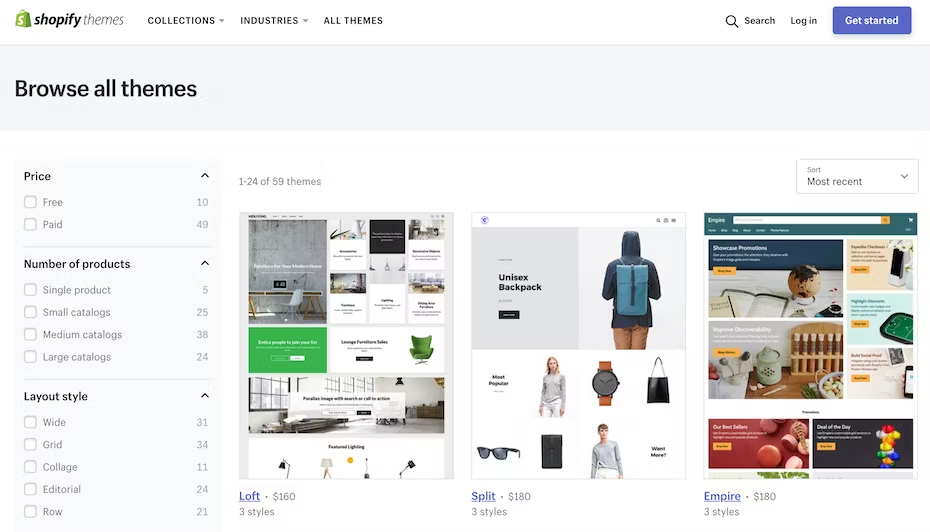 Key Features:
E-commerce-focused platform
Hundreds of themes
Payment processing and inventory management
Dedicated app store
Ratings:
E-commerce features: 9/10
Customer support: 4.5/5
Overall rating: 4.5/5
Pros:
Specialized for e-commerce
Extensive theme selection
Integrated payment processing
Cons:
Additional transaction fees on some plans
Pricing:
Starts at $29 per month (Basic Shopify)
Why You Should Consider:
If you're focused on e-commerce, Shopify is your go-to choice. It provides a comprehensive platform for online selling, including inventory management and payment processing.
FAQs
Q1. Are website builders suitable for large businesses?
Yes, website builders can be used by large businesses, but they are often better suited for small to medium-sized businesses and individuals. Larger enterprises may have more complex needs that require custom development.
Q2. Can I use my own domain with website builders?
Yes, most website builders allow you to use your custom domain. You can either register a new domain through the builder or connect an existing one.
Q3. What's the difference between website builders and content management systems (CMS) like WordPress?
Website builders are user-friendly platforms that simplify website creation, while CMS like WordPress offer more flexibility and control but may require more technical expertise.
Q4. Do website builders include hosting services?
Yes, many website builders include hosting as part of their packages. However, it's essential to check the hosting quality and limitations before making a decision.
Q5. Can I switch website builders later if needed?
Yes, it's usually possible to migrate your website to a different builder or platform, but it can be a complex process. It's best to choose the right builder from the start to avoid such migrations.
In conclusion, website builders have revolutionized the way websites are created and maintained. They offer a wide range of benefits, making them accessible and cost-effective solutions for individuals and businesses looking to establish an online presence. By considering factors like industry-specific features, integration capabilities, customization, scalability, and pricing, you can select the website builder that best aligns with your unique needs and goals. Whether you prioritize design, e-commerce, or customization, there's a website builder out there to help you bring your online vision to life.
Also Read: How to Do SEO on WordPress